Is it really December already? With the end of the year and the holiday season upon us, I didn't spend too much time exploring different library resources in November, but I do have my eye on a few courses from LinkedIn Learning. More on those next month!
If you stop by the library during the month of December, be sure to check out our "Island of Misfit Books" display (you'll find it in the adult fiction section). These "misfits" are titles that have been lingering on our shelves for a bit waiting to find their next reader. You'll find a mix of genres and maybe even some books by big name authors!
What I'm Reading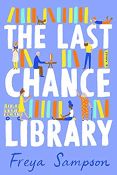 The Last Chance Library by Freya Sampson
June Jones didn't intend to spend her whole life in the tiny English village of Chalcot. But, as the saying goes, life is what happens when you're making other plans. So June, now 28 years old, finds herself having spent the past 10 years working as a library assistant and hiding away in her childhood home surrounded by memories of her late mother. When the council announces that the library may be closed, June and her beloved library patrons are thrown into disarray. To save the library and the community, June will have to step far outside of her comfort zone.
"You see, libraries aren't just about books...Libraries are places where everyone, rich or poor, wherever they come from in the world, can feel safe. Where they can access information that will empower them."
I have (almost) no shame in admitting that the quote above from this book made me tear up a little bit as I read it. As a librarian and library lover, these words ring powerfully true. While The Last Chance Library is about the fight to save a library, the heart of the book is the characters and the community they create together. June and her patrons are a hilariously mismatched bunch. This reminded me a bit of titles I've read by Phaedra Patrick and The Love Story of Missy Carmichael by Beth Morrey. There are serious - even heartbreaking - moments, but the overall tone is joyous and uplifting. A great pick if you're looking for something amusing and lighthearted.
Pick this up if you enjoy: Heartwarming stories about community with eccentric, well-developed characters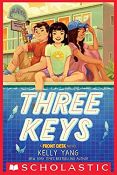 Three Keys by Kelly Yang
Sixth grader Mia Tang is ready for her best year ever. After all, her parents are now the proud owners of the Calivista Motel and she and her best friend, Lupe, are in the same class at school. But her excitement sours in the face of a tough and seemingly unfair teacher and the growing fever pitch of California's gubernatorial election. Facing a startling increase of microaggressions both at school and within her community, Mia begins to wonder if her wit and determination are enough to make a difference.
No, your eyes aren't deceiving you. My title may be "Reference and Adult Services Librarian," but that doesn't mean I can't recommend books aimed at a younger audience! In fact, I'm a huge fan of including books that would be considered "middle grade" - typically for readers between the ages of 8 and 12 - in my reading life. The protagonists in these titles may be young, but their stories are no less engaging or entertaining. And, as an adult reader, these books can present a welcome change of perspective. Mia and her friends are resourceful and imaginative. Three Keys is the follow up to Yang's critically acclaimed and award winning debut, Front Desk. The series is based on her own experiences emigrating to the United States in the 1990s and helping her parents manage motels in California.
Pick this up if you enjoy: Thought-provoking, character-driven stories that explore real world issues
What I'm Listening To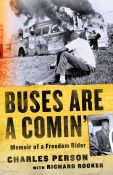 Buses Are a Comin': Memoir of a Freedom Rider by Charles Person
Charles Person was just 18 when he became one of the original Freedom Riders. Although he was the youngest member of the Congress of Racial Equality (CORE) Freedom Ride that began in Washington, D.C. in May 1961, he was no stranger to protests. In Buses Are a Comin' Person recounts not only his time as part of the Freedom Rides, but also his childhood in Atlanta and his involvement with the Atlanta Student Movement. As both a witness to and participant in historic moments in America, Person offers a first hand account of some seminal moments of the Civil Rights Movement.
Wonderfully narrated by Landon Woodson, Buses Are a Comin' offers a glimpse into the life of a man who stood tall beside Civil Rights icons like John Lewis and Martin Luther King, Jr. Person's insights about growing up in segregated Atlanta set the stage for his eventual involvement with the Atlanta Student Movement and CORE. Although it's difficult to listen to recountings of the level of violence and bigotry Person faced, there are lighter and even funny moments, especially when Person recalls time with his family. Overall, it serves as an exploration into how the places and people around us shape our paths. Highly recommended for those who are interested in first hand accounts of history.
Pick this up if you enjoy: Compelling memoirs from lesser known figures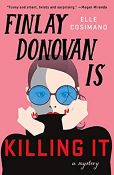 Finlay Donovan is Killing It by Elle Cosimano
Recently divorced romantic suspense writer Finlay Donovan is struggling. She's struggling to co-parent with her cheating ex-husband. She's struggling to pay the bills. And she's struggling to get any words on the page for her long overdue manuscript. When a stranger overhears - and misunderstands - a conversation Finlay has with her exasperated agent, she assumes Finlay is not a writer, but a contract killer. Before she can say "whodunit," there's a dead body in the back of her minivan and another wronged wife looking for someone to "take care of" her no good husband.
Suspend your disbelief at the door before venturing too far into Finlay's world. Although entertaining, there are definitely some far-fetched moments scattered throughout. I ultimately found the preposterousness of it enjoyable. After all, there's something relatable about seeing an amateur sleuth fumble their way through an investigation! Angela Dawe provides some great character voices in the audiobook narration. If you're a fan of the over the top hijinks of the Stephanie Plum series by Janet Evanovich, you're sure to have a few laughs while reading this book. And readers don't have to wait too long for Finlay's next round of misadventures. A sequel is scheduled to be published in February 2022.
Pick this up if you enjoy: Offbeat humor and bungling, but endearing, protagonists