I began my last post talking about the snowstorm that was heading our way. That storm turned out to be just an appetizer for the one that dumped over two feet of snow on the area just before we turned the calendars to February. If you don't mind venturing out in the snow and ice (and it's safe for you to travel!), stop by the library this month to leave a love letter to the library or pick up a blind date with a book.
Pick up a paper heart at the Circulation Desk or Queset House and write your love letter to the library! Hearts will be displayed at Queset House for the month of February.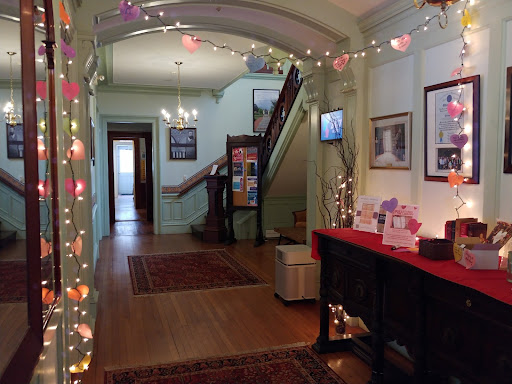 Image courtesy of Dana Hourigan
What I'm Listening To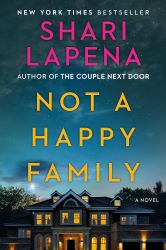 Not a Happy Family by Shari Lapena
Fred and Sheila Merton are the cream of the crop of the upper crust enclave of Brecken Hill in upstate New York. Money talks and Fred and Sheila have more of it than anyone else in the neighborhood. But money is no match for a murderer. Suspicions abound after the couple is brutally slain following a tense Easter dinner with their three adult children. Could one of the kids, each eligible to inherit millions, have decided to expedite their pay day? Or maybe it was the family's longtime housekeeper/maid. Or maybe Fred's sister. Or maybe someone else altogether. Because, as it turns out, Brecken Hill is full of secrets.
This was the second title I've read (and recommended on this blog!) by Shari Lapena and I think it's safe to say that it solidified me as a fan of her work. I love a mystery/thriller with a big cast of characters and lots of twists and turns. One thing I appreciate most about Lapena's novels is how she gives voice to each character. There are at least eight points of view in this book! I know that may sound daunting, but I promise it's done with care and adds an interesting layer to the reading experience.
Pick this up if you enjoy: Family stories with LOTS of drama, twisty thrillers, stories that explore sibling relationships
What I'm Reading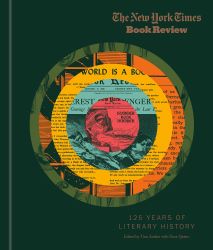 The New York Times Book Review : 125 Years of Literary History edited by Tina Jordan with Noor Qasim
This isn't the sort of book you sit and read through in one sitting. Or even two sittings. To be honest, I haven't finished it yet and probably will still have some more to read even after this month is over. But this fascinating compilation brings together some of the best - and maybe some of the worst - that the New York Times Book Review has offered its readers over the course of its 125 year history. There's the play-by-play of how Sir Arthur Conan Doyle spent the day when visiting Coney Island (akin to a modern live streaming or live tweeting the day's adventures). There's a pan of the now much beloved Anne of Green Gables  and writings contributed by notable names like James Baldwin and Nora Ephron. If nothing else, it's interesting to see how opinions of what we read have changed (or not!) in the past 125 years.
Pick this up if you enjoy: Books about books, history
What I'm Learning
Have you ever checked out an item from AFL's Library of Things? This collection of "non-traditional" items includes everything from giant ceremonial scissors to a karaoke machine to WiFi hotspots. Last month I made good on one of my resolutions and borrowed a few things from the collection, lace blocking wires and the Nintendo Switch. I know, these things don't really go together at all. But that's a bit of the magic of the Library of Things! There's something for everyone. You can browse all of our Library of Things offerings at the link above or stop by the display in the fiction section.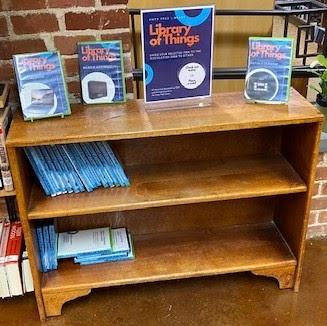 Visit the display in the fiction section to learn more about our Library of Things!
I'm certain I'll be borrowing the lace blocking wires again in the future. As I'm still building my crochet skills most of the projects I'm working on are smaller scale, so it doesn't make sense for me to invest in a set of blocking wires just yet. Thankfully, with them being available through the Library of Things, I can just borrow them as needed.
The Library of Things also gives you the opportunity to explore some new technology. While I feel pretty confident saying that I used to crush it at Mario Kart on Nintendo 64 (yes, I know I'm dating myself with that reference), my gaming days may be a thing of the past. I enjoyed using the Nintendo Switch for a few days, but probably won't borrow it again. But if anyone in your family is interested in the device, borrow it and try it out! As a side note, if you have any teens in your life that love gaming, make sure they know about our new Beat Jimmy program. They can stop by the Teen Den on Wednesday evenings for practice and on the fourth Wednesday of the month face off against AFL's own James Pires, professional e-sports coach & collegiate-level competitor!
If you've made it this far, thank you for reading! I hope that you'll stay engaged just a little bit longer and take a few moments to take our Library of Things survey. We'd love to hear if you've used the Library of Things before and what you'd like to see added to the collection. New items will be coming over the next few months and your suggestions and feedback will help shape how the collection grows!