It's almost spring! Although I'm not usually one to wish the days away, I'm ready for weather that's warm enough to sit outside and enjoy some time reading in the sunshine and fresh air. Until then I'll employ a little technological wizardry to imagine myself reading by the sea or with the songbirds (see the Stress-Free Fridays post from July 31, 2020 for details!)
What I'm Listening To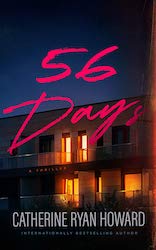 56 Days by Catherine Ryan Howard
56 days ago, Dubliners Ciara and Oliver strike up a conversation in line at the grocery store.
35 days ago, with Covid-19 lockdowns looming, Oliver suggests Ciara move in with him for a few weeks.
Today, a dead body was discovered in Oliver's apartment.
But who is it?
I confess, I was hesitant to pick this one up and resisted for a bit because it simply felt too soon for a novel set during the Covid-19 pandemic. But curiosity about this mystery got the better of me and I just had to read it. For those of you who may be hesitant, as I was, I will say that the pandemic mainly serves as a backdrop. The weirdness and sense of fear during those early days and weeks is present, but the focus is squarely on Ciara, Oliver, and the detectives investigating the dead body in his apartment. Howard utilizes multiple narrators and the story moves back and forth between present and past. Her writing style is compelling and I'll certainly be picking up more books by her in the future. 
Pick this up if you enjoy: Intricately plotted thrillers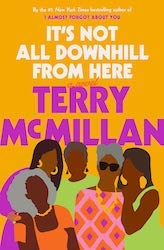 It's Not All Downhill from Here by Terry McMillan
Loretha Curry is living. She is almost sixty-eight, but unlike some around her who lament getting older, she loves her life and is looking forward to more years of laughter and good times with her husband, friends, and family. But an unexpected loss knocks her sideways and she finds herself struggling to find that joy again. It's Not All Downhill from Here is a love letter to the family and friends that help (and sometimes derail) her journey.
"She says she doesn't want us to come to the hospital. So obviously, we will be waiting for her in the recovery room."
Friendship has often been a central theme in McMillan's work and the strong bonds between female friends shines brightly in this book. Loretha and her friends have a vibrant, years-long comradery that will make you laugh and, perhaps, nod along knowingly to the dynamics of that type of friendship. I love an action-packed thriller, but sometimes it's nice to sit back and read a book that devotes ample time and attention to its characters, their thoughts, and their feelings. Although it deals with heavy topics including mental illness, addiction, and cancer, It's Not All Downhill from Here offers heart and levity, too. The audiobook is beautifully narrated by McMillan herself.
Pick this up if you enjoy: Funny and engaging character-driven stories about family and friends
What I'm Reading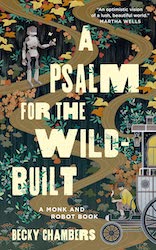 A Psalm for the Wild-Built by Becky Chambers
It's been centuries since the robots left. At this point, they're little more than myth to those living in Panga. Dex, a tea monk, travels around to various villages, offering comforting tea blends and a ready ear to those who need a moment or two to let go of their worries. Theirs is a life built around routine. So things are turned upside down when a robot steps out of the woods to ask Dex, "What do people need?"
Can a book be a cup of tea or a warm hug? If it can be, this book would definitely fit the bill. I knew I had to pick this one up after it was recommended by my colleague Alyisha and I'm so glad that I did. It's a short book and could easily be read in one or two sittings, but I was so enamored with it that I forced myself to only read a chapter - or even a few pages - a day so that I could stay in Panja just a little while longer. Chambers, a Hugo Award winner, writes with heart and warmth. Highly recommended for all, even if you think you don't like science fiction!
Pick this up if you enjoy: Lyrically told atmospheric stories and leisurely paced fiction
What I'm Cooking
If you were to look at my library account on any given week, chances are you'll find at least one cookbook checked out. But truthfully, many of those cookbooks are more aspirational than practical. Lately I find myself briefly flipping through the cookbooks and then returning them to the library without actually having tried any of the recipes. Maybe it's the crazy weather, but I just haven't had the energy or brain space to commit to trying new recipes. Old family standbys and a few more recent favorites (including the Skillet Strata with Cheddar and Thyme from America's Test Kitchen Quick Family Cookbook which is DELICIOUS!) have been on heavy rotation in my kitchen instead.
I recently brought home Good Enough: A Cookbook: Embracing the Joys of Imperfection and Practicing Self-Care in the Kitchen by Leanne Brown and although I've only skimmed the first few pages, I'm in love with it. Brown writes of struggling to find joy in the kitchen after the publication of her first cookbook, Good and Cheap. Being a cookbook author morphed from a dream to a nightmare. How do you feed yourself when your mental and/or physical health hinders your ability to function in the kitchen? Good Enough blends essays about these struggles in the kitchen with reflections on how cooking can be a form of self-care and, of course, recipes. I'm looking forward to spending more time with this book even if I don't get around to cooking anything just yet.