What I'm Reading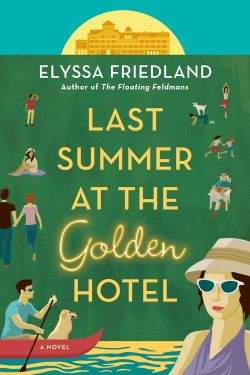 Last Summer at the Golden Hotel by Elyssa Friedland
The golden days of the Golden Hotel are a thing of the past. Once the shining glory of the Catskills, the resort is slowly and steadily falling apart. Prompted by an offer to sell, three generations of the Goldman and Weingold families - business partners and friends who have owned and operated the hotel for over sixty years - reunite to make some tough decisions. Is there any sparkle left to save or is it time for the sun to set on the Golden?
This book is the perfect late summer/early autumn read. With its Catskills setting and frequent descriptions of the hotel's heyday, it's easy to get swept away and imagine yourself wandering the grounds. Friedland utilizes multiple narrators to give readers insight to different family members of each generation of both the Goldman and Weingold families. Everyone arrives at the hotel with their own issues, secrets, and reasons for wanting to accept or decline the offer to sell. The interpersonal and intergenerational dynamics make for captivating reading.
Although tough topics like infidelity, drug use, and financial misconduct are discussed, Last Summer at the Golden Hotel is ultimately a lighthearted novel. No watermelons are carried, but each character gets their chance at offering a bit of comic relief (intentionally or unintentionally). Come to the Golden for the drama and wit, stay for the nostalgia and heartfelt revelations.
Pick this up if you enjoy: Character-driven stories that delve into intergenerational relationships with great dialogue and an amusing tone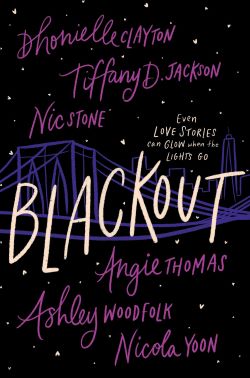 Blackout by Dhonielle Clayton, Tiffany D. Jackson, Nic Stone, Angie Thomas, Ashley Woodfolk, and Nicola Yoon
When the lights go out in the simmering heat of a New York City summer, hearts light up. Interweaving the journeys of a diverse group of couples, this collection brings together six critically acclaimed authors. From a stranded subway car, to a retirement home, to a darkened library, explore the sweet beginnings and bitter endings of young love.
If the upcoming change of seasons has you feeling sluggish and looking for a change of pace in your reading life, short story collections are a great option. Even collections with interconnected stories like this one are excellent for dipping in and out as your time and attention allows. Blackout introduces an entertaining cast of characters navigating a variety of stages in their relationships. Walk across the city with bitter exes thrown together for the day by circumstance. Adventure with long-time friends who are on the brink of something more. Ride a double-decker tourist bus with a group of students on a class trip. Their stories are at turns heartwarming and heartbreaking. 
With over 20 young adult novels published between them, these authors are no strangers to heightened drama brought on by teenage emotions. While it would be easy to rest on the stereotypes of young love, each pairing here feels fresh and vibrant. In even the shortest story the characters are multidimensional, because while love stories are at the heart of it all, this is also a collection about life's transitions. Some characters are preparing for their first years of college while others are healing from the loss of family or friends. With such a variety of stories being told, every reader will find at least one couple in these pages to root for and celebrate.
Pick this up if you enjoy: Interconnected short stories or anthologies, romance, or stories that feature place as a character
What I'm Listening To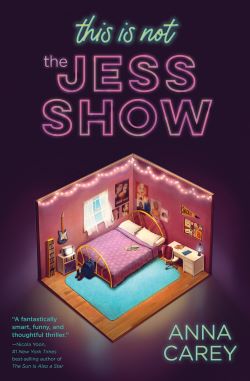 This is Not the Jess Show by Anna Carey
Something shady is afoot in Jess Flynn's hometown of Swickley. Jess, a high school junior, just wants to have a drama free school year. It's bad enough that her parents are overprotective, her younger sister is sick, and she seems to be developing a crush on one of her closest friends. She doesn't need high school headaches adding to her stress. But suddenly half the town is MIA with a mystery illness and Jess feels more and more like everyone around her has secrets. What will she do when she discovers that reality isn't always what it seems?
This is Not the Jess Show is billed as young adult fiction, but I think that readers who came of age in the late 1990s or early 2000s will feel a particular affinity for this one. If you raced home after school to flip through a Delia's catalog while watching TRL, you'll find some major moments of nostalgia. Interspersed with these blasts from the past are some thrills - including a few chase scenes - and a mystery to uncover. Readers race along with Jess as she searches for answers and figures out her next moves. Fair warning: there is a sequel planned so there are some questions that are left unanswered.
I do recommend the audiobook deftly narrated by Suzy Jackson, whose voice you might recognize from audiobook performances of titles by Kristan Higgins, Marlene Perez, David Lubar, and Jodi Picoult. The combination of intriguing plot and great narration had me taking longer walks and stretching out time spent on chores so I could keep listening!
Pick this up if you enjoy: Fast-paced and thought-provoking stories with intricate plots
What I'm Cooking
Confession: the best thing I cooked in August didn't come from a book found on the library's shelves. But it's too good to keep to myself and I found a comparable recipe in our cookbook collection!
Last month I pushed myself out of my comfort zone and took a Zoom cooking class offered by a celebrity chef. It was full of great recipes and instruction, but the one recipe I've already tried again is for croutons. These humble little chunks of torn, seasoned, and toasted bread have quickly become a staple in my kitchen. They're quick and easy to make, endlessly customizable, and so much tastier than the premade ones from the store. In the few short weeks I've been making them, I've used them to liven up salads, soups, and pasta dishes. Yes, you read that right: croutons on pasta. I thought it sounded a little crazy, too, until I tried it. From now on, I'm always going to serve spaghetti and meatballs with a side of these croutons.
The recipe for torn croutons from Salt, Fact, Acid, Heat by Samnin Nosrat is extremely close to the recipe I followed from my online cooking class. Nosrat also offers some suggestions for switching up your seasonings.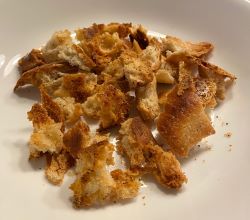 Homemade croutons: a delicious addition to so many dishes (and a handy snack while you're preparing a meal!)