Are you a bibliophile or perhaps even a bibliomaniac? If you are reading this, then chances are good that you love a good book. My name is Kim and I absolutely love the fact that on most days, working at the circulation desk, I am surrounded by books.
Do you love playing word games? What's your favorite? Mine is Scrabble.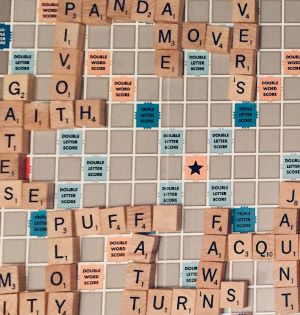 For some, Scrabble is all about the strategy - maximizing your points by finding the exact right place to put your word, preventing your opponent from perfectly placing their word or taking advantage of triple word scores. Personally, I enjoy the challenge of making the most interesting and complex words possible. Like many of you, I recently started playing Wordle, an online game created by a software engineer named Josh Wardle, for his partner who loves word games. 
Wordle is played once a day, on a plain black and white background. It's a nice distraction from a busy life. People count on Wordle as part of their routine. Since 
the New York Times bought Wordle
, everyone says it's harder, but the Times maintains that 
they haven't changed it
. Wordle is everywhere. The other day, I saw a 
Wordle-themed tweet
 from Paul McCartney that turned out to be a concert announcement and a series of 
ads
 from the World Health Organization made to look like Wordle scores.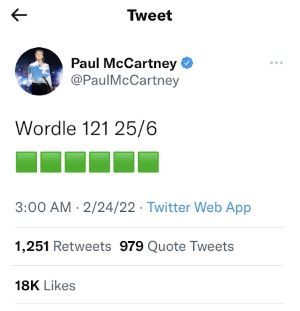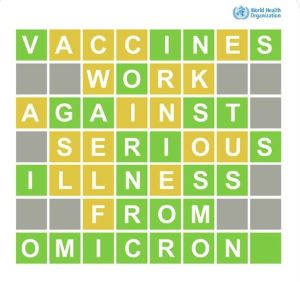 Celebrities, businesses, and organizations are joining in the Wordle craze.
There are many different versions of Wordle, perhaps you've tried some of them: 
Byrdle
 is a choral music version, 
Worldle
 has a geography theme and 
Absurdle
 tries to make finding the right word as difficult as possible. Have you heard of 
Quordle
, with four Wordles to solve at once or 
Octordle
, which has eight? I tried Octordle; it's hard.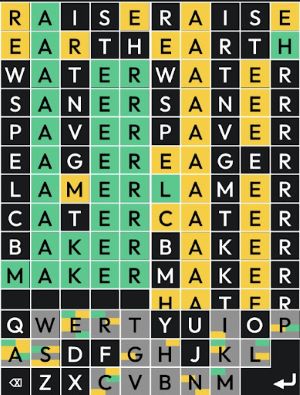 Find Wordle too easy? Challenge yourself to a game of Quordle or Octordle instead!
The game has evolved to the point that people are telling us 
how to cheat at Wordle
. How do you do that? I really want to know. The critics have weighed in too, apparently  
I've been playing it wrong
, but I don't mind, I'm just happy to play. The word "Wordle" is not new; according to 
I Scream Ice Cream, a Book of Wordles
 by Amy Krouse Rosenthal, published in 2013, wordles are groups of words that sound the same but mean different things. I think that's known as a 
homophone
.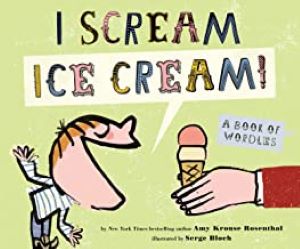 Would you like to know more about what a 
lexicographer
 does for a living? Does the 
history of the dictionary
 excite you? Well then, read on and explore some word-related books that are available in our catalog.