Hello – and Happy Spring! 
I'm Alyisha, the Youth Services Specialist at the Ames Free Library. Though I'm most often found in the Children's Room, surrounded by glitter, googly eyes, and Mo Willems books, my literary interests are (perhaps surprisingly) diverse and far-flung. I can recommend the best story about construction vehicles for your child; a lush, historical novel to enthrall your senses; a steamy romance for your upcoming vacation; or an irreverent pop science audiobook to get your synapses firing during your morning commute. There's one genre that I love, however, which I rarely have the opportunity to recommend: poetry. So, when National Poetry Month comes around every April, I always take advantage.
This is my third Spring at the Ames Free Library. In previous years, we've created poetry recitations of our most beloved poems (as inspired by the Favorite Poems Project) and we've Chalked the Walk, accomplishing the unthinkable; we made our already gorgeous space even more beautiful by covering it in poetry and art.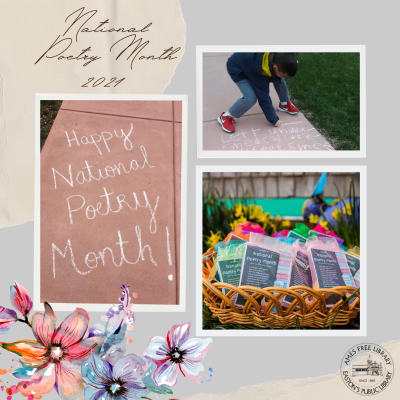 This year, I'm keeping it simple. I'm asking you to join me in what's become, for me, an intimate and familiar routine:
A few years ago, I quietly began a daily practice that forever changed the shape of my days. I called it #PoemsBeforePhones.
For a while, I'd been finding myself in a common predicament: I'd wake up, summoned to awareness by the alarm clock on my phone, and immediately start doom-scrolling. Looking at social media (and the news stories shared there), before I'd even had a cup of coffee, set a terrible tone for my day. It allowed far too much anxiety into my morning. Put simply, it wasn't good for me – for my mental health, for my heart, or for my soul. So, I decided to do something about it. I'm thankful for this decision every day, especially given the worldwide crisis that I didn't know was looming on the horizon. I started this practice in the Spring of 2019. Less than a year later, the internal calm that reading poetry evokes became even more crucial for survival.
At this time, April was fast approaching. Poetry Month was on my mind, and it occurred to me that it could help me with my predicament. I've always had an appreciation for poetry – especially nature poetry – but I wanted to read more of it. So, I tasked myself with reading at least one poem every morning, before doing anything else. I gave my self-directed challenge a snappy name and posted about it on Litsy, my favorite social media platform. To my surprise, scores of others began following the tag and using it themselves. Thus, #PoemsBeforePhones was born.
Before I continue, I want to acknowledge the inherent irony of posting on social media about reading fewer social media posts. Trust me, I know. But – as Walt Whitman once said, "Do I contradict myself? / Very well then I contradict myself, / (I am large, I contain multitudes)." I've justified this part of my practice by telling myself that it fosters community. I genuinely believe this, too; it's not just a pretty lie.
If you're interested in developing your own poetry practice, there are a few steps you can take.
Decide to do it! It's been said that it takes 21 days to form a habit and 90 days to make a permanent lifestyle change. Commit to reading (at least) one poem, first thing every morning, for a month. Begin on April 1st and see if it sticks!

*Gather books. Put together a stack of poetry books and keep them somewhere accessible, like your bedside table.

Don't reach for your phone; reach for a poem! Each morning, before looking at your phone, crack open a book of poetry. You may choose to read a single poem – or you may want to keep going, reading several until you're sated. Feel it out! Every day is different.

Be mindful. Reading poetry each day helps me to feel more connected – with language, with myself, and with my own mind. It inspires me to be more present in nature and encourages me to treat others more tenderly. How does it impact you? Observe yourself reading and pay attention to the effect it has on your relationships.

Share! If it serves you, share your favorite daily line with others. You can read it aloud to your partner, child, or cat; or text it to a beloved friend or family member. Or, you can visit our Facebook or Instagram page and leave us a comment! Remember to use the tag #PhonesBeforePhones alongside your quote. This will allow others who are participating to find your post(s).

Breathe easier. 
*At this point, you may be thinking, "I'm in!" You may also be thinking, "But…I don't know much about poetry. Where do I start?" Don't worry. I've got you covered.
Stay tuned for a curated list of my favorite poetry collections (coming soon)! I'll be sure to share it within the next few days so you'll have plenty of time to check-out books or place them on-hold. Don't wait for the New Year to make your resolutions! As the world wakes up in April and flowers begin to bloom, let poetry be your sunshine. You can encourage a new awareness to bloom within yourself.