"I write to see the beginning and end of it all,"  
Grant Faulkner, Executive Director of NaNoWriMo
What should I write about?
There are hundreds of things I could write about and none of them seem worthy of the time needed to put into it. I wanted help so I went looking for ideas, a brilliant can't-miss magic idea that is just too big to fail.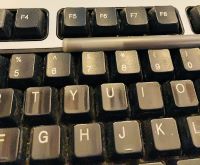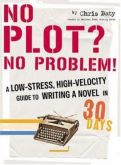 In the book No Plot, No Problem, Chris Baty had lots of great suggestions. There are tried and true themes that feature in most novels, perhaps one of them could work for you: 
an unexpected windfall

a wronged person exacts revenge

a character finds a precious or unusual object and/or goes on an impossible quest or journey

someone gets fired

a relationship implodes

someone gets a disease

someone dies

someone tries to become something they're not

someone falls in love with someone off limits

someone gets mistaken for someone else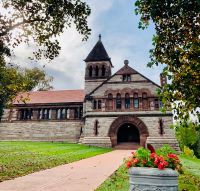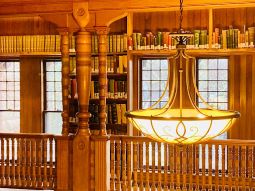 Baty offers general tips, such as: write your joy and good things will follow - if you don't enjoy reading it, you won't enjoy writing about it; avoid writing about things that bore or depress you; write about people you would enjoy getting to know and ask yourself questions about them, such as what does their living space looks like or what were they doing a year ago; some plotlines naturally generate certain settings (think zombies = cemeteries); model your settings after real-life places, however, if the story is a fantasy, it helps to create and map out the world before you begin; decide on a first or third person point of view and stick with it; and Baty reminds us that no one ever writes a brilliant first draft so take the risk of making something "horribly crappy" - having the basics of the story written is more important than getting all the details right during NaNoWriMo, that can come later.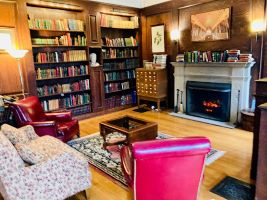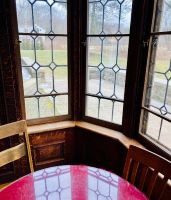 NaNoWriMo's Prep Guide has some ideas as well: observe the world around you, create an inspiration board, do some research before you start at places like the library (shameless plug) and Google earth (great for exploring places you've never been), learn about the setting and time period you want to write about, read a book as a writer would and notice how the author moves the story along, write everyday and build the habit of writing into your life, keep a random ideas journal, collect ideas on plot, character, setting and dialogue, take those ideas and write them on pieces of paper, put them into hats, pull one from each category and write a brief summary or book blurb. Need some more ideas? NaNoWriMo's Adoption Society forum has plots, settings, dialog and characters that you can adopt, among other things. There are also Random Plot Generators you can try, keep spinning until something inspires you. Here's a combination that I found interesting: a woman in her thirties, who can be quite idealistic, a man in his thirties, who can be quite manipulative; the story begins on a moonlit beach, a devastating phone call, it's a story about a journey, your character investigates with the help of a good friend. I don't know about you but I'd read that.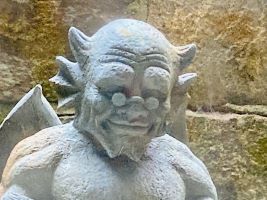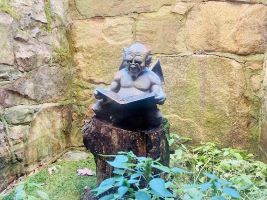 Here is an exercise to try that came out of a discussion I had with my husband, something he learned from improv- find an object in your environment and create different "story starter" ideas (see prompt #3) that relate to different genres and see if anything inspires you; for example, in the ground floor of the library there's a gargoyle that can be seen through the window of the adult fiction room - he's wearing spectacles, sitting cross legged and reading a book, perhaps you've noticed him, let's call him Ed (I have it on good authority that is his name), how might Ed's story unfold? 
A nonfiction story might focus on the history of the statues at the library. Each chapter is a different story about how they came to be there, told from a different person's perspective and narrated by someone new who is asking questions about Ed (along with the reader). The story could also be about the storytellers, their relationships and positions in the community. 

Children's book or picture book: a parent telling a reassuring story to their child who is worried about Ed
Historical fiction: a period piece, Ed contains valuable secrets. A sentry sits guarding the gargoyle, waiting for a message to be retrieved and protecting the statue from falling into the wrong hands
Fantasy: Ed was once human but has been frozen, he's under a spell and is waiting for someone to rescue him. Ed is actually a prince from a magical kingdom who needs to restore order and reclaim his throne

Romance: Ed is waiting for his love to return and wake him with a kiss.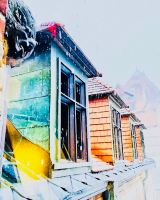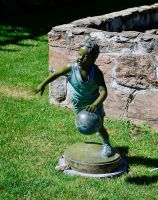 You get the idea. There are a million different ways the story could go. Ed could be the main character or the narrator. He could be a MacGuffin like the Maltese Falcon or just a statue after all. If you're anything like me, by now you may be tempted to panic over the lack of a good idea, but I hope you don't give up. I encourage you to stay the course and embrace the process that is NaNoWriMo. Be sure to check out our first event coming up later this month. I'm looking forward to meeting you, discovering writing resources together, and getting inspired. If you've participated in NaNoWriMo in the past, you can come and share your own tips and tricks for success. I wish you all the best in your endeavors. For more information, click the link to discover all the fun NaNoWriMo events happening at the AFL. Happy writing!
Kimberly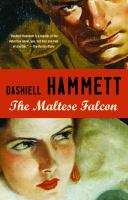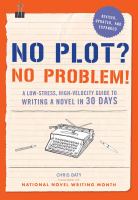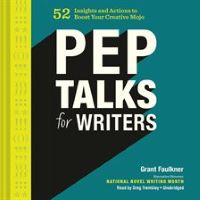 The Maltese Falcon, Dashiell Hammett
No plot? No Problem!:a low-stress, high-velocity guide to writing a novel in 30 days, Chris Baty
Pep Talks for Writers: 52 Insights and Actions to Boost Your Creative Mojo, Grant Faulkner
NaNoWriMo logo image courtesy of NaNoWriMo