Happy Fall! Thanks for stopping by the Librarian's Lounge this month. September brought me some excellent books and tasty treats. I'm excited to share them with you today, but I want to hear from you, too! Did you read a book last month that I should add to my TBR? Did a book or resource from AFL help you learn something new? Share all the details in the comment box at the end of this post.
What I'm Reading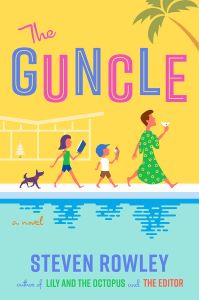 The Guncle by Steven Rowley
Patrick O'Hara, a former sitcom star, has sequestered himself away from the world in Palm Springs. He is happy to hide in his mid-century abode and dote on his beloved niece and nephew, Maisie and Grant, when he sees them for brief visits. But when his sister-in-law passes away and his brother faces a health crisis, Patrick finds himself in the role of full time GUP (Gay Uncle Patrick). Guiding the children - and himself - through grief and uncertainty is no easy task. But their journey together will leave them forever changed.
The cheery and colorful cover design belies the depth you'll find in the pages of this book. It is a bit of a slow start, but worth the time spent observing Patrick, Maisie, and Grant as they learn to live alongside each other and navigate their grief. Patrick knows practically nothing about children, but has an uncanny ability to connect with them and help them interpret their world and their feelings. In turn, his young charges prove to be the keys to helping him unlock some long closed doors. Rowley strikes a good balance of humor and gravity, crafting characters that dance on the edges of caricature but who feel earnest and fully developed. The book has already been snapped up for a film adaptation (with Rowley set to adapt the script) and I'm looking forward to laughing - and crying - along with these characters on a big screen.
Pick this up if you enjoy: Character driven stories that explore tough topics with wit and whimsy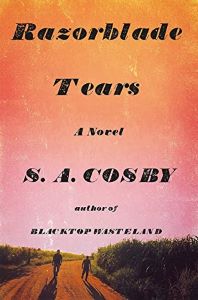 Razorblade Tears by S.A. Crosby
Ike Randolph and Buddy Lee Jenkins share little in common except their status as ex-cons and being the fathers of young men killed in their prime. Their sons, Isiah and Derek, were married and were brutally murdered. When the police investigation stalls, these unlikely allies decide to take matters into their own hands. Seeking both justice and redemption, Ike and Buddy Lee return to worlds they thought they'd left behind for good.
I gushed about S.A. Crosby's Blacktop Wasteland in last year's staff favorites list and Razorblade Tears was one of my most anticipated reads of the year. And I'm happy to report that I was not disappointed. Crosby has once again delivered a thrill ride. He is exceptionally good at exploring morally gray areas and breathing life into characters who do the wrong things for (maybe) the right reasons.
Fair warning: Crosby's writing is not for the faint of heart. It is bloody, violent, and peppered with moments of vitriol that will make your skin crawl. Both Ike and Buddy Lee reflect on being neglectful of and downright hurtful to their sons while they were alive. Some of the characters they encounter throw around homophobic, racist, and mysoginistic language like confetti on New Year's Eve. His work is not going to be for every reader, but he's well worth a read if you're willing to dive into darker themes and subject matter.
Pick this up if you enjoy: Intricately plotted crime stories that explore vengeance, redemption, and family
What I'm Creating
As the weather gets cooler, I often start thinking about the projects that will help me pass the time indoors once winter hits us in full force. Of course there are always books to be read, but I have a tendency to lean into creative endeavors this time of year. I've tried my hand (with varying degrees of success) at different craft projects from crochet to cross stitch to sewing.
In September that familiar itch to make something returned and I turned to Creativebug, AFL's resource for all things art and craft. Wanting to try something new, I decided to try out the class series Basic Line Drawing with Lisa Congdon. I'm by no means an artist, but this series was a great way to explore a new skill. Congdon is a relaxed and reassuring teacher. Her approach reminded me a bit of Zentangle. Drawing along with her and listening to her discuss her art and design philosophies was calming.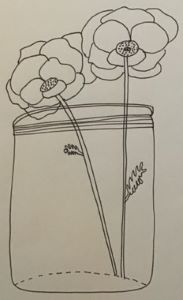 One thing I love about Creativebug is that you can access a list of materials used in a class before viewing the video. But this doesn't mean you HAVE to have all of those supplies on hand to make something wonderful or to have fun creating! I happened to already have some pens similar to the ones on the materials list, but I didn't have any fancy drawing paper. I went ahead and did my drawings on plain old white printer paper. Would my lines have come out smoother and cleaner on better quality paper? Maybe. But I don't think my experience was hindered by having only some of the supplies.
What I'm Cooking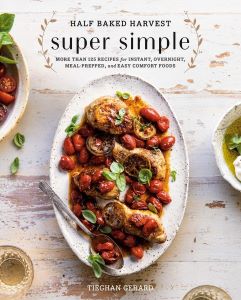 Since picking up Half Baked Harvest Super Simple by Tieghan Gerard, a lot of my free time has been spent debating which recipe to try next. The recipes, as the title suggests, are simple. Many recipes use 10 ingredients or less and there are symbols to help you quickly identify if a recipe can be made in under 30 minutes or using just one pan. Recipe instructions are plainly written and easy to follow. I appreciate that some recipes, like the one for Salsa Verde and Brown Rice Chicken Tortilla Soup, include instructions for a variety of cooking methods. I made this tasty soup in a slow cooker, but Gerard also provides instructions for cooking in a pressure cooker (like an Instant Pot) or on the stovetop.
I've also found that the recipes are pretty flexible, too. One Saturday morning, shortly after bringing the cookbook home, I dove into making the Coconut Banana Muffins, only to realize I didn't have coconut flakes in the cupboard. Or any coconut for that matter. I could have made a run to the store, but decided to improvise instead and make the streusel topping with sliced almonds instead. The muffins came out light and fluffy and the makeshift streusel provided a nice crunch. Honestly, it's hard to go wrong when cinnamon and butter are involved! But I did pick up some coconut flakes at the store recently so I can try the recipe again with all of the proper ingredients.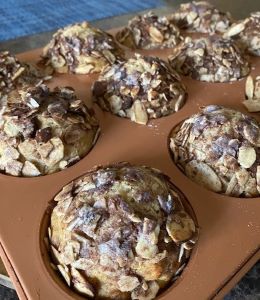 Coconut Almond Banana Muffins